Generac Generators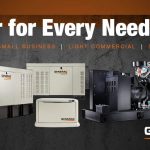 Generac provides some of the best-in-class backup power generators available on the market today. From Portable Units to Homes and Commercial Properties, Generac has an available solution to meet your exacting needs.
CPR has certified Generac Technicians in seven locations across Florida and Georgia to serve your installation, troubleshooting, and maintenance needs. We offer regular service plans to keep your backup power generators working at their optimum levels.
Want to know more about the Generac Backup Power Generator line of products? Contact us today, and we'll be glad to help out in any way we can.
View Generac's residential sizing guide here.
Top Products