After the storms, the world of home generators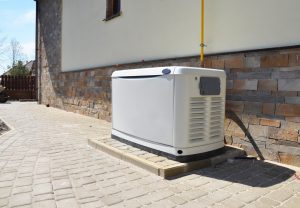 The devastating hurricane season this year has put generators back in the news. That's prompted a lot of people to start thinking about whether their home needs a backup system in the event of a natural disaster.
Even those homeowners who were not directly impacted by the storms almost certainly were motivated by the coverage of the widespread blackouts in Texas, Florida and Puerto Rico. And they clearly started to realize they did not want to endure a similar loss of power if a generator could prevent it.
What hasn't been covered in the news, though, is the fact that technology is bringing advancements and improvements to the rapidly-evolving world of home and commercial generators. That means an investment in a generator today will help ensure that you're not going to be impacted by a blackout like the millions who endured Hurricanes Harvey, Maria and Irma.
It isn't just the storms fueling these advances. In this day and age, our daily lives and how we function are intricately tied in to our computers, laptops and smartphones. And without the ability to power them, our lives can come to a grinding halt.
The industry understands that. The idea isn't just to make it durable, but to find innovations as well.
Among the latest technological advances that some new model generators have are:
• An emergency LED flashlight built into it;
• A waterproof cover to withstand storms;
• The ability to charge solar generators using direct sunlight;
• Small models designed for hiking and camping trips;
• Lightweight emergency battery generator systems can provide power to two devices simultaneously.
And after Hurricane Maria wiped out power to the entire island of Puerto Rico, impacting 3.4 million residents, there have been predictions of even more changes to come for the generator industry.
From disaster comes innovation
The devastation that Hurricane Maria brought to the island of Puerto Rico delivered a shocking new reality to millions. What happens if a storm wipes out power to everyone on the island? Now, as the government of Puerto Rico struggles to bring power back and restore its existing power grid, it's become clear it could take many months before power is fully restored.
This is not about providing residents with the convenience of lights or a working television set. In Puerto Rico, hospitals have been evacuated, and lives remain at risk for people reliant on life support systems.
Other companies have responded. Sonnen, a German company that also has manufacturing facilities in the U.S., has been installing solar and storage systems in Puerto Rico at emergency shelters.
Other industry specialists are looking at ways to replace Puerto Rico's grid with a newer system that's solar generated, or that uses battery storage. That will help make the entire system more resilient in the future.
Other islands, including American Samoa, have already turned to onsite solar and storage to provide power to homes and commercial buildings.
And this trend is happening in the U.S. as well, where the renewable technology of battery storage is gaining in popularity as a way to provide energy resiliency. The business community in particular has embraced this technology as a way to keep operating in the event of a utility failure.
However, both solar and storage remain a very small part of the market today. In theory, it usually takes a catastrophic event, done on a massive and widespread scale, to transition a niche market into something more mainstream.
Will the devastation on Puerto Rico be that moment?
Portables also gaining in popularity
Electricity is critical when you're in your home — cooking, using your computer, and doing other tasks. But it's also important to outdoor enthusiasts as well. That's why portable solar generators have become so popular to generate electricity. They're easy to use at camping sites and in your RV. And the latest solar generators have become more advanced and offer new features. In fact, they can even supply electricity for hours after the sun sets.
These portable kits come with two main parts, the solar panel and the solar power generator. It's the solar panel that captures energy from the sun and converts it to electricity. That power is then sent to the battery bank to store.
And since the sun rises every day, that means solar offers a free power source, which can be generated anywhere.
You don't need to be a camper or an outdoors enthusiast to use a portable solar generator. They're ideal as a backup power source for your home in emergency situations as well.
So, what are the key differences between solar and fuel generators? Both are popular – and they're different as well.
Solar generators work off the sun's energy, so the owner doesn't spend extra money on them. They are also silent because they don't have moving parts inside them. They're considered environmentally friendly since they don't emit any gases. And the battery bank enables them to keep running when its dark.
In addition, the latest models of solar generators have special ports built into them. That enables you to charge your smartphone directly from both AC and DC devices.
The benefits of a transfer switch
The recent storms sent a lot of people rushing out to buy a generator in anticipation of a power outage. Anyone purchasing a home generator is advised to hire an electrician to install it for them. And it's not clear if everyone took that advice before Hurricanes Harvey hit Texas or Irma hit Florida.
In the future, those purchasing a generator should also consider installing a transfer switch in their home to separate the generator from their main power supply. That's crucial because it ensure the system won't back feed and push power back into the power grid. That poses a serious risk for electrocution.
The manual transfer switch can be as expensive as the generator itself, costing between $500-$900. However, the safety this device offers can provide a high degree of peace of mind in a challenging situation.
Conclusion
If you have any questions about generators, how they work and what kind of model is best suited for your home, contact us today at Complete Power Resources, your dealer of choice for all your portable power needs.
Complete Power Resources is an authorized Generac, Onan and Kohler dealer. And we have Certified Technicians who can help you with a variety of other leading industry makes and models.
If you believe you need backup power, we can help you select the right model. And we get it installed for you as well. Our team will come to the location where the backup power generator is going to be installed, determine the best placement for the unit and install it for you.
After the installation is complete, we'll schedule a test start up to ensure everything is in working order. And we also provide user training at the end of the process to ensure you fully understand how to use your backup power generator.
Call us today at 866-330-4277 to learn more. And follow our blog for the latest news on what's happening in the rapidly-evolving world of home and commercial generators.