The Power of CPR — The Local Winter Garden
This story will appear in the August 2022 issue of the Local Winter Garden Magazine.
Complete Power Resources has it what it takes to keep Winter Garden running through the stormy season.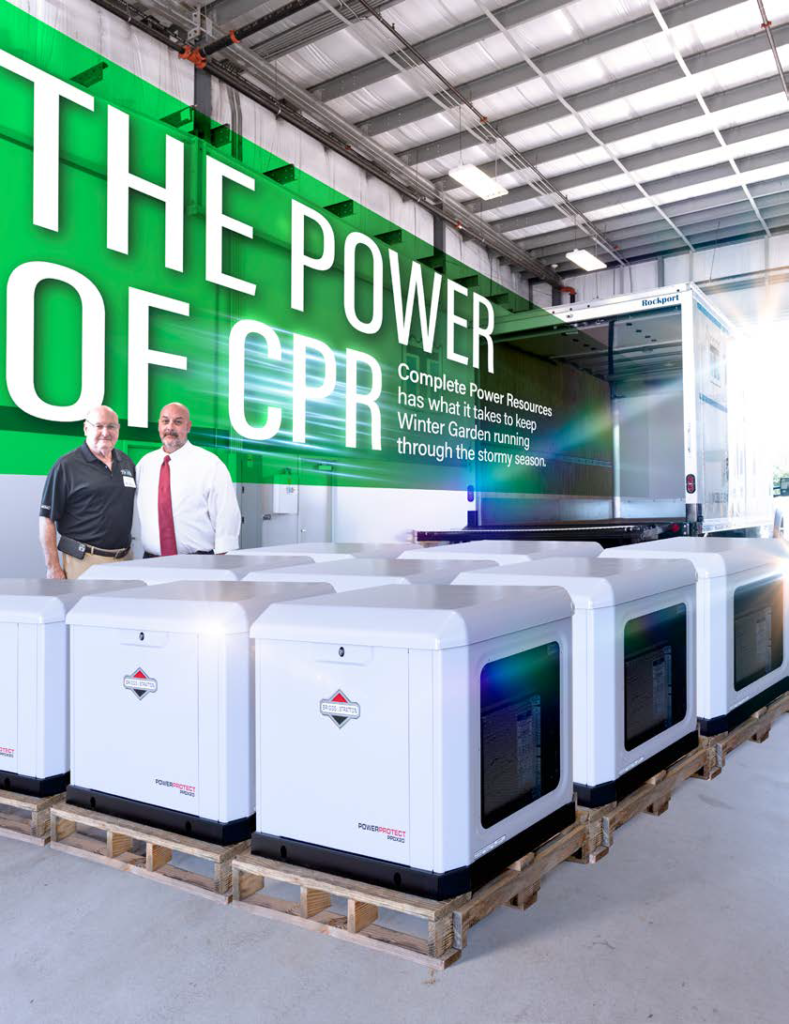 Power outages have become as Floridian as oranges and vacations, but they're not nearly as much fun. And not surprisingly, natural disasters account for many of those power interruptions—can you say "hurricanes"? Every year, hurricane season in Florida comes with its share of crossed fingers, prayers, and panicked rushes to purchase and install generators. According to the U.S. Department of Energy, more than 80% of major power outages are due to severe storms, affecting 15 million households yearly. Other causes of power outages may arise due to local utility companies' maintenance and other random events. We at Complete Power Resources want to change that. We provide our customers with suitable backup power systems to prevent interruptions during power outages. Complete Power Resources is a Thermo King of the Southeast subdivision specializing in sales, service, and installation of residential and commercial standby generator systems. We are located right here in Winter Garden and are an authorized dealer for all the major national generator brands.
Peace of mind
Hurricane season runs from the start of June through the end of November. 'Tis the season, as they say, and this season, why not go ahead and do what you've thought about year after year? Install a generator in your home or business before the storm clouds gather so the lights stay on, the oven continues cooking, your medical equipment and C-PAP machines function, and your heat or AC keeps running for optimum comfort.
Light commercial & healthcare benefit
In healthcare, one aspect that remains constant is a facility's capacity to provide clients with a comfortable and reliable environment that keeps power-reliant tools running. Those criteria tie back to having electricity 24/7, which is non-negotiable for some facilities, depending on the niche. Our light commercial fleet has best-in-class standby generators to keep small doctors' offices, labs, and boutique pharmacies equipped with backup power systems to fight against potential blackouts.
Professional installation
Don't wait for the big box stores to come to your rescue. They may only have one or two brands to choose from—Complete Power Resources has them all. Those stores may even say they can provide installation. But likely, that will be hit or miss with whichever subcontractors are available at the time. At Complete Power Resources, our technicians are factory-authorized and certified to install and service every brand we sell. That's all they do. We handle the permits with the designated county, prepare the foundations, install the systems, test them, and train our customers from start to finish.
Service packages that save you money
To keep our systems in peak form year-round, most of our customers opt for a service plan that's a hassle-free way to be sure your generator turns on when the power goes out. Our certified technicians perform a variety of safety and reliability checks at regular intervals on:
• Fuel and Oil Levels
• Fuel and Oil Age
• Unit Wiring
• Physical Inspection of Unit
• And Unit Environment Inspection
Your backup power system will perform its self-tests, but routine maintenance on your system just once a year will help ensure that it works when you need it.
Special options
Another advantage to working with Complete Power Resources is the choice of options we can bring to your installation to add to your experience. We guide our customers to choose power solutions that suit their preferences, such as quiet packages (Did you know liquid-cooled generators run much quieter?), friendly financing through a partnership with Synchrony Bank, and Load Management Systems that save you money by prioritizing when to power high-wattage items like your AC, oven, and dryer.
Briggs and Stratton
Complete Power Resources is fortunate enough to have fostered a strong working relationship with a leading manufacturer in the country, Briggs and Stratton. We are proud to be able to feature a company with more than 110 years invested in developing power technology and innovation. Its engines are commercial grade and built for long lifetimes and dependable efficiency. Every Briggs and Stratton generator has the industry's best warranty for added peace of mind.
Getting started
Complete Power Resources has one more advantage, and it is, in a word, availability. We're all too familiar with the supply chain interruptions in today's climate; Complete Power Resources has enough generators in stock to get you up and running in a matter of weeks. For example, current stock numbers show 70+ Briggs and Stratton generators in our inventory. The wait at other outlets is clocking in at 30 to 40 weeks to get units ordered and installed. Our average wait time at Complete Power Resources is considerably less! We'll arrange for a Complete Power Resources professional to come to your home, assess which system fits your lifestyle and budget, and answer any questions you may have. Afterward, we'll provide you with yourFREE quote, an installation schedule,  and a price that will turn you — and your home — on the next time the power goes out.
Empowered by CPR
Mark Litwin gives his family peace-of-mind with a new generator.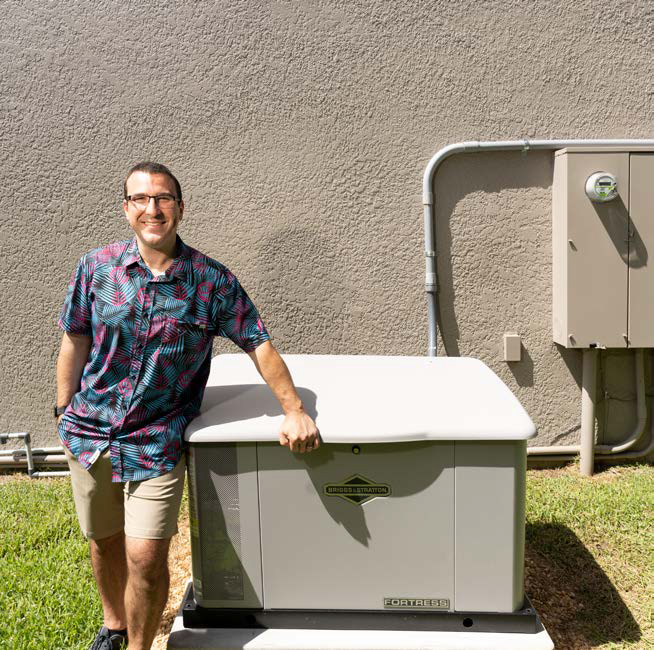 We have some crazy weather here in Florida and after going through several hurricanes, we determined that a standby generator was something we had to have for peace of mind and the safety of our family. So, we contacted Complete Power Resources. I made an appointment, and they came to our home to see what we'd need. I wanted to learn everything I could about the whole process, and they were patient and responsive. I'd call with a question—they'd get right back to me. I called them one night at 11 p.m., and they got back to me 10 minutes later! They were so friendly and human. No pressure at all. They answered all my questions, looked at all we had to power up—appliances, pool, A/C, all that—showed us the different brands and told us what we'd need. We ordered a 20kW Briggs and Stratton, mainly because of their longer 10-year warranty.
A month later, we had it installed. No, we haven't needed to use it yet. We did have a power surge a while ago, and our generator kicked right on like it was supposed to! Just put yourself back in the mindset of watching the weather maps, listening to the news, and waiting on another hurricane: There are people lining up for gas, raiding the grocery stores, scrambling for emergency supplies. Everyone's afraid they'll lose power and dreading it. Not me. Not now. Thanks to Complete Power Resources, I won't have to think about all that. I'm not going to be that guy anymore, and for my money, that is one awesome feeling.